Cosmetic & Curb Damage
Please keep in mind all RIMS that are complete RESTORES must have all pieces removed - TPMS/RIVETS etc. WE ARE NOT RESPONSIBLE FOR THESE
Painted Wheels
Wheels are restored to a like-new finish by our certified wheel technicians. The wheels are repaired, primed, painted, and finished with a superior clear coat. RGX Rim Repair will color match the paint to match your specific vehicle. Most painted wheels take 30mins - 1 hour to complete. RGX Rim Repair stands behind a 100% Customer Satisfaction policy. This process can be completed mobile if you are local or you can ship your wheels to us. We can restore scratched, gouged, curb rash damaged wheels back to their original finish.

Polished Wheels
Most polished wheels today have a protective clear coat on them. Therefore, the clearcoat must be stripped off in order to begin the polishing process. This results in a slightly longer turnaround time to allow for the best results. However, all polished wheels - cloudy, scratched, or oxidized can be restored to a mirror-like finish. Wheels can become damaged from acid spray, oxidation, and even brake dust. This damage can produce unattractive wheels. RGX Rim Repair specializes in complete wheel restoration. The BMW M-Class wheels pictured contained severe oxidation and resulted in little reflection. RGX Rim Repair technicians completely restored the polished lip to a brand new finish.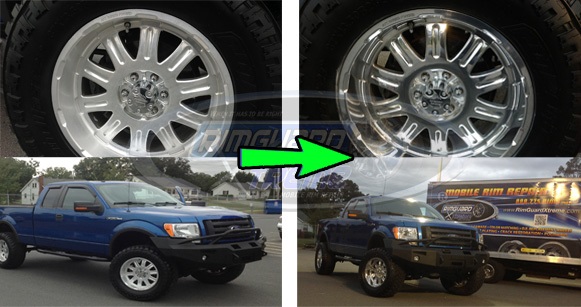 Machined
Machined wheels are very similar to polished wheels. They both have a protective clear coat. The process for restoring this type of wheel involves re-machining the face on a CNC Lathing Machine in order to restore it back to its original appearance. The Acura wheel to the right has been completely re-machined to a brand new finish. The wheel will arrive back to the customer with a lifetime warranty against defects.

Please keep in mind all RIMS that are complete RESTORES must have all pieces removed - TPMS/RIVETS etc. WE ARE NOT RESPONSIBLE FOR THESE
Center Cap Restoration
Let us restore and/or polish your center caps to make your rims look like new!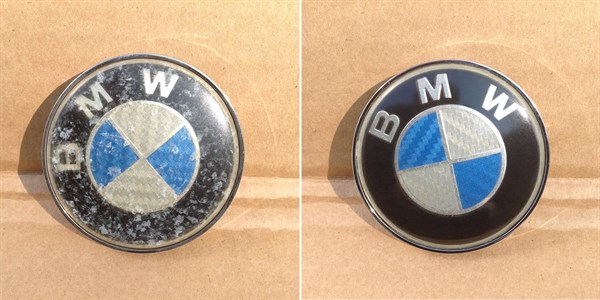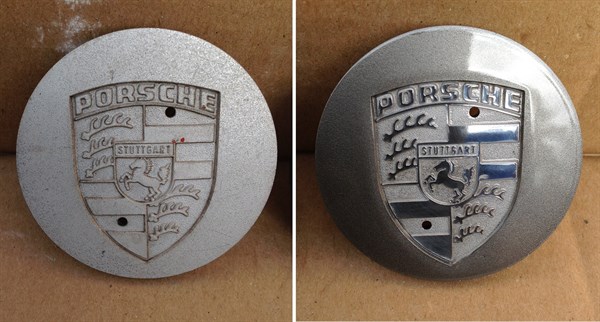 Please keep in mind all RIMS that are complete RESTORES must have all pieces removed - TPMS/RIVETS etc. WE ARE NOT RESPONSIBLE FOR THESE