Traditional Plating & RGX-Chrome
Traditional FIVE Plate ~ Chrome Plating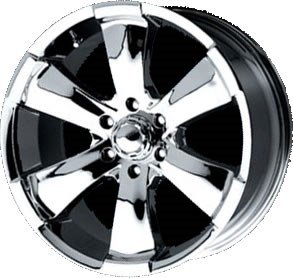 True chrome plating requires several steps. The options would be a customer who currently has painted, machined, or polished wheels and would like to get them plated. The plating process continues with a chemical etching, Copper plating, buffing, bright nickel application, chrome solution, and final rinse. This process can take several days to complete.
This is the best quality CHROME you can get on the market - This 5-plate process will DOUBLE your value of what you pay for the RE-PLATE
FREE SHIPPING BOTH WAYS - 2 Year Warranty on NEW CHROME ONLY
All TRADITIONAL PLATING ONLY INCLUDES Polish/Buff of the FACE - ANY additional polishing to the INSIDE/OUTSIDE Barrel is an additional COST starting at $150.00.
!!FREE SHIPPING BOTH WAYS!!
TESTIMONIAL: RimGuard Xtreme is absolutely, positively the best in the business! I had extensive curb damage on a 2008 Mercedes SL 550 chrome custom wheel. RimGuard repaired and re-plated the wheel to standards above and beyond my expectations. The wheel looked better than the other three on my vehicle. I was so impressed with the work RimGuard performed on my Mercedes wheel that it made me give my Toyota Tundra pickup truck a facelift by chrome plating 4 custom Enkei wheels. RimGuard again exceeded the standard by providing a high quality product backed by excellent customer service. Thank you for a job well done!!!
Name: Russell G. November 15, 2012
PASSENGER CARS & TRUCK CHROME PRICING
FREE SHIPPING BOTH WAYS - 2 Year Warranty on NEW CHROME ONLY
NEW CHROME PLATE WARRANTY INFO
Chrome Wheel Exchange - Easier than ever!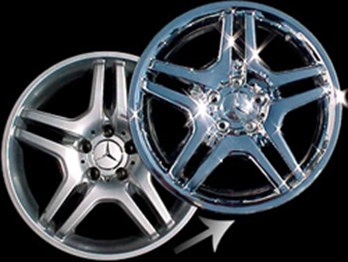 RGX-Chrome - PowderCoated Effect Chrome
This process is an great alternative to traditional chrome plating and carries a 3year warranty against manufacture defects under normal operating conditions. Approximate time until customer return 3weeks.
4 Step Process
First a primer powder coat is applied.
Second a leveling powder base coat layer is applied to reduce or remove any imperfections in the wheel prior to applying the metal layer.
The wheel is coated with a chromium alloy which is applied utilizing Particle Vapor Deposition in new state-of-the-art chambers that have been specially built for coating alloy wheels. Our single metal application ensures consistency in color part after part.
Finally, a powder clear coat is applied to protect and seal the finish.
ONLY $225/EACH!!